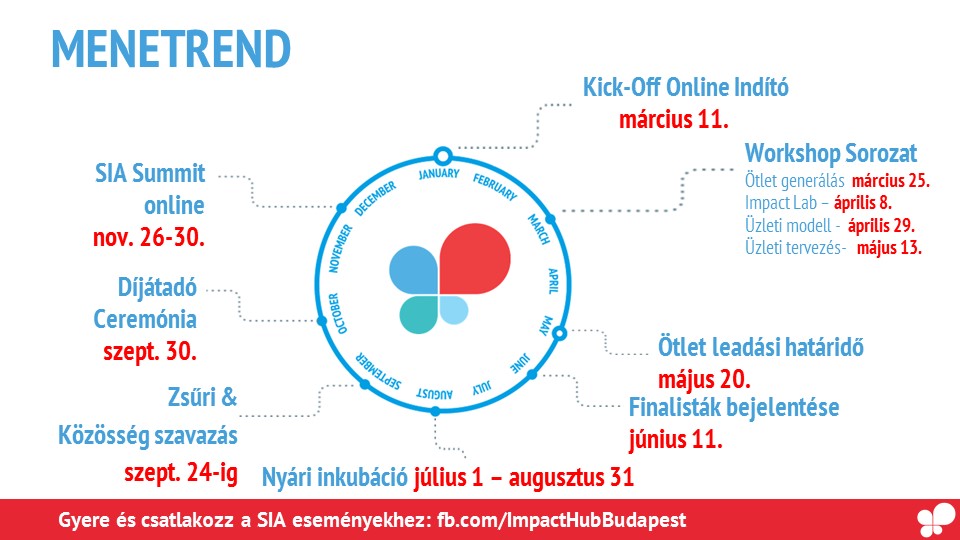 Így néz ki a SIA 2021-es menetrendje.
A fontosabb állomásokat, eseményeket jeleztünk.
Az egyik legfontosabb: az ötletek, pályázati anyagok leadási határideje: 2021. MÁJUS 20. ÉJFÉL ❕❕❕
A jelentkezést itt találjátok:
https://apply.socialimpactaward.net/hungary/udvozlunk
Mit kaptok a programtól?
Az ötletpályázaton részt vevők közül 8-an kerülnek be az inkubációs folyamatba, ahol a 2 hónapos inkubáció során mentorok segítik a társadalmilag hasznos ötleted vagy társadalmi vállalkozásod üzleti modelljének megerősítését.
Közönségszavazás az Impact Hub Facebook oldalán és a weboldalon, ahol több ezer ember ismerheti meg az ötleted.
Díjak: 2 darab 1500 EUR értékű támogatás a zsűri díjazottai számára. 1000 EUR értékű támogatás a közönségdíjas számára.
A SIA nemzetközi nyerteseivel való együttműködések, továbbgyűrűző hatás.
Jelentkezzetek, várjuk az ötleteket, pályázati anyagokat.
Almost there
You need to register in order to submit your bulletin & vote.
We care about your privacy.
Read Privacy Policy .
× close