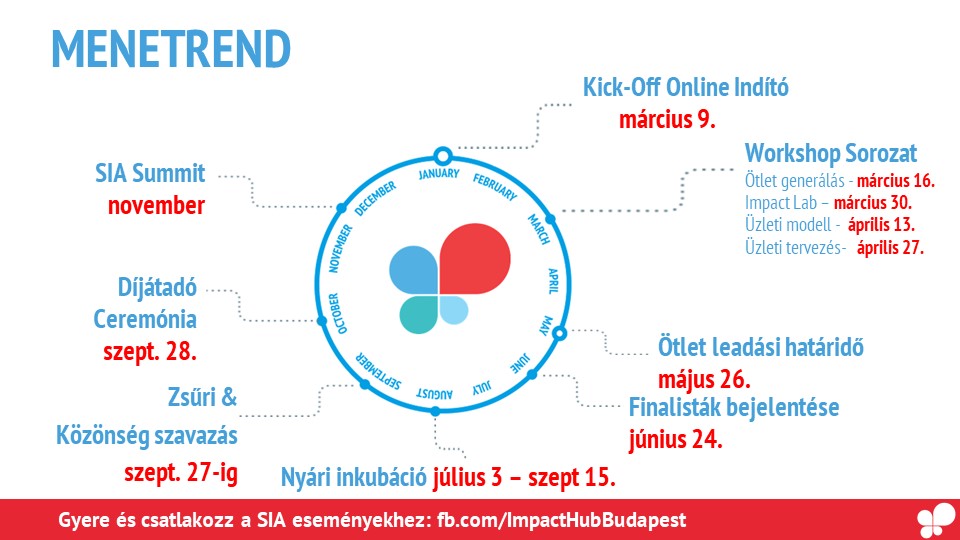 SIA – 2023 – Hamarosan indulunk!
Az Impact Hub Budapest folytatja a Social Impact Award nemzetközi ötletversenyt és pályázatát. Legyél Te a SIA 2023 nyertese!
Kik jelentkezhetnek?
14-30 év közötti fiatalok innovatív, társadalmi hasznosságú impact és megvalósítható ötleteit várjuk 2023. május 26-ig. 
Miért érdemes jelentkezni?
Az ötletek kidolgozásában segítünk online, ingyenes felkészítő workshopokkal:
március 16-én Ötlet Generálás Workshop
március 30-án Impact Lab Workshop
április 13-án Üzleti Modell Worksho
április 27-én Üzleti Tervezés Workshop
A pályázatok leadása után a  SIA zsűrije június 23-ig kiválasztja a legjobb 10 ötletet, a finalistákat.
A finalisták 10 hetes inkubációban vesznek részt július 1 és szeptember 15 között. Ez alatt az időszak alatt tapasztalt  mentorok és szakértők, trénerek segítségével dolgozzák ki az ötletüket.
Szeptember 28-án a finalisták egy pitch este mutatják be ötleteiket és a zsűri 2 nyertest választ ki. A nyertesek pénzjutalomban részesülnek!  Emellett egy közönségdíj is kiadásra kerül.
November szervezzük meg a nemzetközi SIA Summit-ot, erről még lesz tovább infó az év során.
Gyere, legyél Te a SIA 2023 nyertese! Várjuk ötletedet!
Almost there
You need to register in order to submit your bulletin & vote.
We care about your privacy.
Read Privacy Policy .
× close