WHAT IS SOCIAL IMPACT AWARD?
Social Impact Award is more than just an award. It is a year-round educational program on social entrepreneurship dedicated to students and youth.
We support you in building social enterprises that find solutions to the most challenging issues of our time. We do so by hosting events and organizing workshops to raise awareness for social entrepreneurship, teaching the necessary skills to navigate from vague intentions to promising ventures, providing access to networks and promoting the best teams with the Social Impact Award.
Experimental, human and collaborative - this is us!
Learn more about the program's Hungarian edition on this site or visit our global page at socialimpactaward.net
---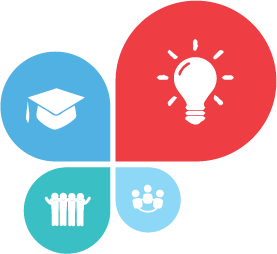 Awareness
Aid the development of entrepreneurial skills through inspiration and exposure to the field
Over the year 2018, we supported 1.000+ young teams to create and implement innovative social business ideas. Our past impact survey shows that 60% of projects submitted have been implemented and 35% are generating revenues 2 years after taking part in SIA.
Education
Support participants to develop new social venture concepts
In spring 2018, we ran 250+ workshops & events for 8.000+ participants in 88 cities across 20 countries. In the future, new countries will join the program and further extend the reach our workshops have.
Community
Connect participants with an international community of entrepreneurs,
peers and experts
Expert juries in each country evaluated ideas and gave feedback to all 1.000+ applications submitted - because every idea counts! The best 200+ venture teams took part in our summer incubation, where they brought their venture idea to live with our intense expert support.
Support
Support the best teams with financial capital and active support through-out the year
At the end of summer, we promoted the best 68 ventures with the Social Impact Award along with seed funding of 125.000+ EUR in total. They all gathered in November in Tbilisi Georgia for the SIA Summit 2018, a 3-days-event experience, to be ready to roll out their venture and create sustainable impact.
---
Join the workshops and submit your idea to win 1500 euros
English applications will also be accepted. Click on the 'Események' tab for the events and on 'Jelentkezés' to apply (bilingual content).